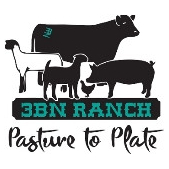 3BN Ranch
Contact: Nicole Seymour
Address: 8580 us 271 south Gilmer, TX, 75644
Email Address: 3bnranch@gmail.com
Phone: 903-931-2066
About Us
3BN Ranch is a pasture-based ranch in Gilmer Texas, raising meat locally and shipping our products to 18 different states across the U.S. (and growing!). We believe in transparency, treating our animals humanely, and raising them the way nature intended- naturally!

We are the Seymour family and we are 3BN Ranch. We chose the name 3BN Ranch because it is the first letter of each of our names Brian, Brayden, Bayli, and Nicole. Together, the four of us work hard every day to build our ranch and produce a premium product for your family and ours!


Practices
Our animals are raised in their natural environment on pastures in Gilmer, Texas.. Our animals are never given hormones or antibiotics.