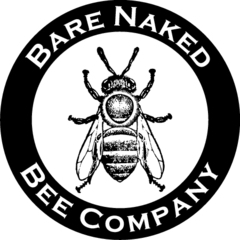 Bare Naked Bee Co
Contact: Dede Price
Address: 718 Bluebonnet Dr. Allen, TX, 75002
Phone: 214-500-9876
About Us
Bare Naked Bee Company officially started in 2016 and is owned and operated by Wes and Dede Price

We started this journey more than 10 years ago when we noticed our garden wasn't flourishing. That's when we noticed the lack of bees we'd become so used to seeing. We started Bare Naked Bee Company with the intent to spread awareness of the critical condition the honeybee population is in. Bees pollinate one third of our global food supply and are critical to our survival.

Practices
"Bare Naked" stands for our natural approach to beekeeping. We do not treat our hives with chemicals, pesticides or antibiotics. This helps to produce stronger bloodlines in our bee colonies so they can fight off diseases naturally. We love our honeybees and strive to make sure they are happy, healthy and fed.

We plant Texas native wildflowers at each of our apiaries. Each apiary is at least 6 acres and cover areas in Lucas, Fairview, Allen and McKinney.

Our honey is raw and unfiltered.