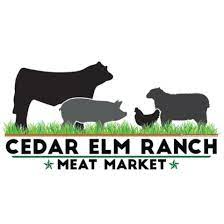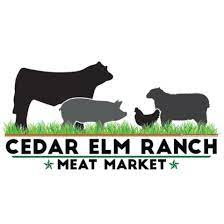 Cedar Elm Ranch Meats
Address: 990 County Road 532 Evant, TX, 76525
Phone: 830-889-2423
About Us
We are sheep ranchers on a third generation, family-owned, 450 acre ranch in Central Texas. When it was our turn to manage the family land we decided on sustainable practices which included dorper sheep. Dorper sheep are a meat sheep and because they don't have wool with lanolin the meat has a clean superior flavor.

Our sheep are grass-fed and raised on clean pastures with lots of forbes and grass. We never use hormones or antibiotics on our sheep which gives us happy, healthy sheep who have a life worth living.

We use our experience, passion, and knowledge of agriculture to raise the highest quality pasture-raised, grass-finished livestock. All of our animals are processed at inspected facilities and we offer artisan and traditional cuts that guarantee satisfaction. So now you can experience a better cut of meat from a source you can trust.
Practices
Sustainable practices including rotation grazing
Grass-fed, grass finished lambs
No hormones or antibiotics ever used on our lambs
Locally processed at an inspected facility