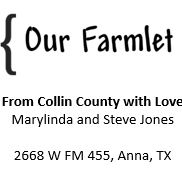 Our Farmlet
Contact: Marylinda and Steve Jones
Address: 2668 W FM 455 Anna, TX, 75409
Email Address: Marylinda@Netbelay.com
Phone: 972-754-3331
About Us
Our Farmlet is a small acreage West of Anna in Collin County. It is one of many new small "Farms" that have made Collin County a nationwide leader in the formation of new agricultural enterprises.
Our Farmlet is a venture between Marylinda Jones who grows and packages everything and husband Steve who runs the tractor, loads compost, tills the beds and cooks a lot of dinners.

Our Farmlet strives to have something to eat for people and something in bloom for pollinators all year. In the past three years, Our Farmlet started with high quality fruit, berries, and produce. In 2020, we became a Texas licensed Animal Food Processor turning pasture raised, restaurant quality chicken feet and paws into healthy pet treats. We produce edible and ornamental flowers, receiving a Florist license to sell flowers grown on premise in 2021.

To round things out, Marylinda bakes Gluten Free meringue cookies using the eggs from the hens that keep the grasshoppers at bay (Crunchy People Treats), and a lightly spicy Chex(r) Mix variation worked out over 30 years with her late Mother-in-Law Patsy Jones. She called it, "Texas Trash." It features pecans, jalapeño and chipotle Tabasco sauce. We call it Crunchy Savory People Treats.
Practices
Each year, we improve the gardens with 20+ cubic yards of Texas Pure Compost and protect it with 20+ more yards of local hardwood
aged mulch.

We're as organic as possible in an old Bermuda Grass pasture and a Farmer allergic to Fire Ants.

A few free range chickens and clover patches keep many of the bugs out of the gardens while feeding the bees and butterflies.