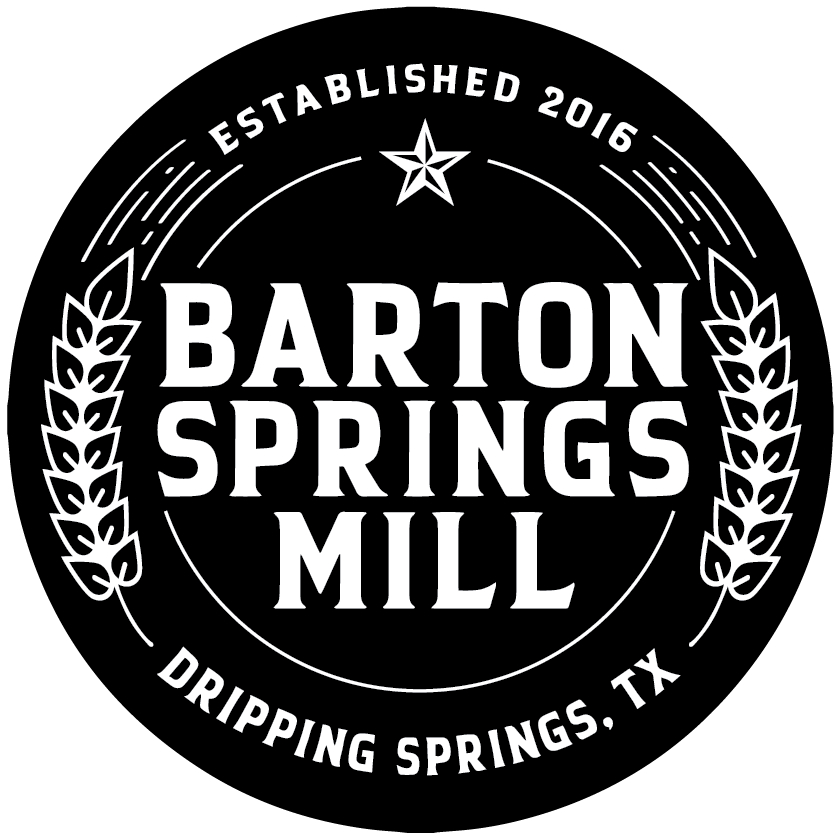 Barton Springs Mill
Contact: James A. Brown
Address: 16604 Fitzhugh Rd., Unit B Dripping Springs, TX, 78620
Phone: 512-554-5981
About Us
Our story starts long ago with a man named William "Uncle Billy" Barton. It was only a year after the Texas Revolution when Uncle Billy Barton had the wherewithal to patent four springs just south of what is now Lady Bird Lake in Austin. He named three of them after his daughters, whose names are worth mentioning because, well, they are the memorable Parthenia, Eliza, and Zenobia. These waters fueled Michael Paggi's gristmill for Central Texas corn and Michael and Robert English's larger mill for flour. The English's business boasted two 48-inch mills capable of producing 100 barrels and 1960 pounds per day. (For reference, our mill can run 165 pounds per hour and 1650 pounds in a 10-hour day.)

Barton Springs Mill now sells to chefs, bakers, distillers, brewers, and home enthusiasts, with a singular goal of making each bite just a little better than it might have been otherwise. Barton Springs Mill has recently broken ground on a new 17,000 square foot facility in Dripping Springs, where our head miller, James and his wife Valerie will live above the mill and heritage oak trees.

Practices
We specialize in stone-milled heirloom and landrace grains, many grown here in Texas since the late 1800s. In a nod to the many kernels of corn and berries of wheat that were milled by power from Barton's springs, we chose the name Barton Springs Mill. Our mill is a Osttiroler from Austria, and it currently runs 10 hours a day, 7 days a week—4 days for culinary and baking, and 3 for distilling and brewing. It is made of solid wood and stone, with an industrial motor.