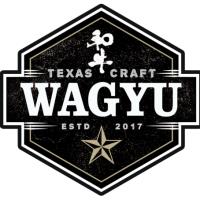 Texas Craft Wagyu
Contact: Benjamin Shaw
Address: 17288 Cardinal Ranch Rd Leonard, TX, 75452
Email Address: benshaw@texascraftwagyu.com
Phone: 903-304-9689
About Us
Intensely marbled Wagyu raised by the Shaw and Bruner families on their North Texas family ranches. Both families have multiple generations running their operations in Leonard and Grandview TX. They believe superior flavor goes together with giving animals under their care a life worth living and continually improving their stewardship of the land.
Practices
Every part of the journey to your restaurant's table is designed for a flavorful eating experience. Their cattle are allowed to grow slowly so each cut develops a unique flavor profile. Their beef is dry aged 30 days, enhancing its tenderness and flavor.

Grass fed, finished with local grains

No sub-therapeutic antibiotics or hormone implants

Meat butchered in either local USDA- or Texas-inspected facility

Packages will be labeled as either Texas Craft Wagyu or PrimeLine Beef.