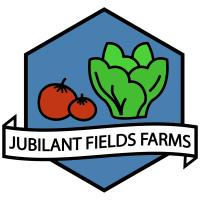 Jubilant Fields Farms
Contact: Dawson Mehalko
Address: 13067 E Line Rd Trenton, , 75490
Phone: 903-227-9712
About Us
Hello, my name is Dawson Mehalko. I'm 17 years old and I run Jubilant Fields Farms, a small, 1/4 acre, vegetable farm 1 hour northeast of Dallas. Here on my farm I grow salads. Lettuce, arugula, spicy greens, salad turnips, radishes, carrots, tomatoes, cucumbers, and broccolini. I grow year round, doing my best to keep things producing no matter the conditions.

Follow me on Instagram @jubilantfarms to see how I grow, what's happening on the farm, and stay up to date on product availability.
Thank you very much for being a customer and supporting my small farm, it means a lot.
Practices
I utilize regenerative, no-till, gentle on the soil practices to produce the highest quality produce I can manage.