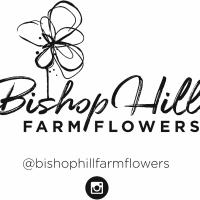 Bishop Hill Farm Flowers
Contact: Amanda Vanhoozier, LLC
Address: 214 Fieldcrest Loop Coppell, TX, 75019
Email Address: amanda@justpickedtx.com
Phone: 214-406-7056
About Us
Bishop Hill Farm Flowers is a small scale farm in NW Dallas County backing up to a creek line with flora for foraging. Amanda is growing specialty cut flowers with intensive production from seed to bloom.

Seasonal flowers start in early spring with ranunculus, anemones, narcissus and poppies. And move into the warmer days with larkspur, sweetpeas, snapdragons and bachelor buttons. Summer farm flowers bloom out with bright colors of sunflowers, zinnias, coneflower, black-eyed susans, celosia and daisies. A wide diversity of herbs are used for green fill along with native perennials.
Practices
Sustainable farming focused on soil building for healthy plants with continuous blooms. Each flower is harvested for vase life with meticulous care.