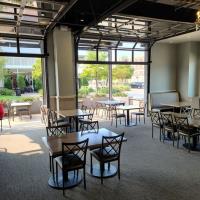 Meat the Farmer Event
Last Chance to Click dropdown to see VIP tables for THIS Saturday, 24-Oct in Fairview.
Order Now
"Meat the Farmer Event" is all about bringing our customers in to meet their farmers. Profound Foods is founded on transparency and we'd love you to get meet the people doing the hard work to grow and raise your food.
From 3p-5p we'll host our customer appreciation part of the event, it's free, family friendly and we'll gather a small gift bag of goodies for you. You can add the number of tickets you want for the number of people you are bringing.
For those of you who want a little bit more, we are also offering a very limited amount of VIP tickets. Your VIP ticket will grant you exclusive access after hours (5p to 6p) to a private tour, food, and beverage tasting (the "meat" in the Meat the Farmer event). Tickets will be booked per table. Family Friendly. All tables will be on our patio or open-air area of the space. We'll serve our samples on a platter family style to your table. VIP's will also get to try some of our home-brewed beer, or "Profound Claw" hard herbal cider for free!
Here's what Chef is thinking will be on the VIP platter so far, subject to what's available from our farms that week:
-Luscher's red hot Corn Dogs
-Kababs with Texas Craft Wagyu Steak and Misty Moon's Peppers
-Barton's Springs Batter, house-made Fresno Ketchup, Roasted Onion Mostarda
-Chubby Dog Sliders - Barrel Strength BBQ, Pickled Onions, Empire Buns
-Profound Caesar Minis - Baby Collards, Mini Romaine, Jalapeño Caesar, Aged Parmesan, Garlic Croutons
-A Bar N Ranch Wagyu Steak Philly Cheesesteaks,
TX Fungus Mushrooms, Mill-King "Cheesy Whiz," Empire Bun
-Milk Chocolate Mousse and Tamale
Devil's River Whiskey Brownie, Raspberries, Profound's Mint and a pumpkin spice tamale.
The VIP + Benefactor level includes a table for 6 AND a separate private 3-course chef dinner at our location on another date for you and up to 6 people! You can save for a birthday or special occasion & if you would just want a private dinner for 2, not 6 people, you'd get an over the top culinary experience!
You may be interested in some of these other products.
You must be logged in to confirm your subscription
Login