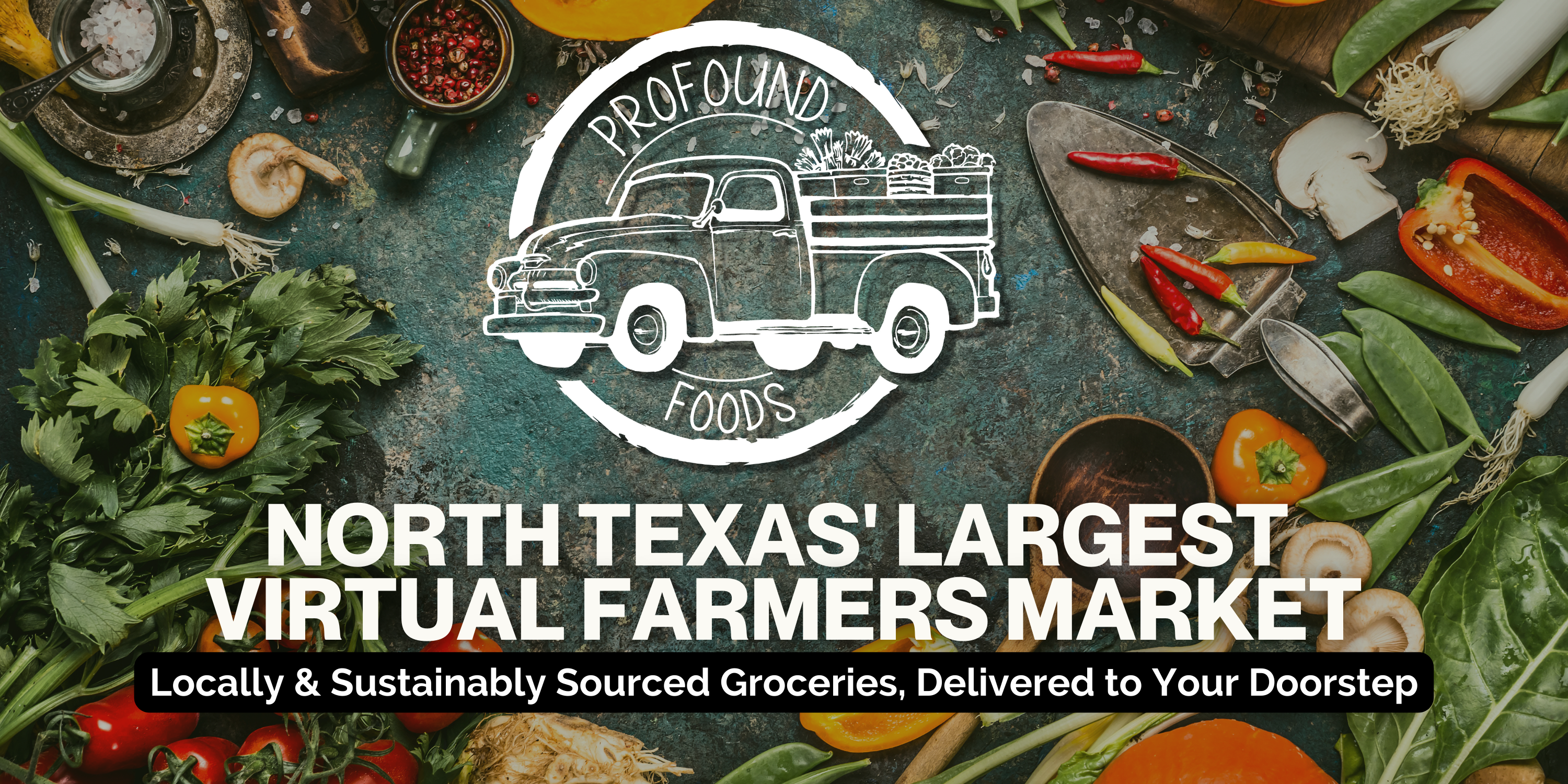 Welcome!
Profound Foods is a VIRTUAL FARMERS MARKET for locally grown and produced food - serving the Dallas/Ft Worth area. We make it possible for farmers to work together to meet the growing demand for local, sustainable food. Our marketplace brings fresh, healthy, local food to you in a cost-effective manner on a weekly basis.
Ordering from Profound Foods helps build and support our local food economy!


HOW TO ORDER
Shop each week from Thursday morning at 12:15am - Wednesday 11:59pm. This is the ordering window for ALL retail customers.
(For Restaurant & Wholesale information see bottom of page)

When you are finished shopping, please confirm your cart. ORDERS ARE NOT PLACED UNLESS YOU CONFIRM! (Note: You can still edit your cart as needed, even after you confirm, until Wednesday at 11:59pm.)


You will receive your order on Friday or Saturday depending on your selection from the following...




FOR HOME DELIVERY
WHEN: EVERY FRIDAY


WHERE:

We currently deliver to the following Zip Codes:

75002 75003 75013 75023 75024 75025 75033 75034 75035 75036 75069 75070 75071 75072 75074 75075 75080 75081 75082 75093 75098 75205 75206 75209 75214 75225 75229 75230 75240 75248 75252 75254


HOW: We deliver into to your cooler on your doorstep starting at 11am. The delivery Window is 11am-7pm. We are working to create a much smaller delivery window, thank you for understanding we are farmers, not Amazon. Please select a cooler large enough to fit your order. Ice-packs are highly recommended! Especially if you ordered meat or dairy. Please provide us with your complete delivery address & any special instructions into the 'Notes' field of your order.

FOR PICK-UP ORDERS
ANYONE can shop with us as a Pick-Up Customer! We offer several options for picking up your order…
FRIDAYS:
In Fairview @ Profound Foods Kitchen, 10am - 4pm
163 Fountain Court, Fairview, TX 75069
Pickup at the back door

SATURDAYS:
Downtown Dallas @ Southpoint Community Market, 11am-5pm
1645 South Boulevard, Dallas, TX 75215
Pickup inside building
A$5 fee per order will be added as a donation to Southpoint Community to support their mission.

-OR-

Plano @ My Possibilities, 4pm
3601 Mapleshade Ln, Plano, TX 75075 (near Coit & PGBT)
Parking Lot pickup, look for our van
A $5 fee per order will be added as a donation to My Possibilities Foundation to support their school and mission.



CHEFS & RESTAURANT DELIVERY
We offer TUESDAY & THURSDAY deliveries to restaurants in Dallas & Collin counties. Ordering window for chefs begins on Thursday morning at 12:01AM and ends on Wednesdays at 11:59PM. Please order by Monday at 11:59PM if you need Tuesday delivery, and by Wednesday at 11:59PM if you need Thursday delivery. For special requests please reach out to jeff@profoundfoods.com.


Click Here to create an account.


Order Online: LOG IN to your Profound Foods account. Once logged in, visit our Product list to add items to your shopping cart. When you are ready to check out, click on the shopping cart icon in the top right corner of the page to View & Confirm your order. ORDERS ARE NOT PLACED UNTIL YOU CONFIRM.


Order by Email: Send your order to marylinda@profoundfoods.com. For a full PDF list of this week's available products, log in to your account and then click on the printer icon in the top right corner of the Product Page. Be sure to include VIN numbers and quantities in your order email.

BECOME A PRODUCER
Are you a local farmer or maker looking for an opportunity to connect with your community? Register as a Producer and let us know what you are interested in selling through the Market.